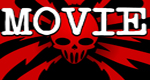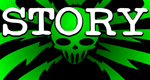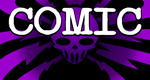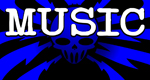 You Support This Site
When You Buy My Books
E.C. McMullen Jr.
PERPETUAL
BULLET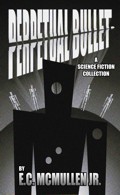 "'Some People' ... may be the standout story in the book."
-

John Grant

, Infinityplus

E.C. McMullen Jr.
WILLOW BLUE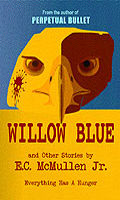 "'Willow Blue' will burrow under your skin and stay there long after you've put the book down."
- Jeffrey Reddick, Creator of
FINAL DESTINATION

IN OTHER BOOKS
E.C. McMullen Jr.'s
short story
CEDO LOOKED LIKE PEOPLE
in the anthology
FEAR THE REAPER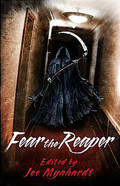 "This Ray Bradbury-esque is one of the most memorable and one of the more original stories I've read in a long time."
- Steve Isaak,
Goodreads

HORROR 201:
The Silver Scream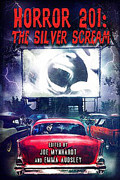 Filmmaker's Guidebook
featuring
RAY BRADBURY,
JOHN CARPENTER,
WES CRAVEN,
TOM HOLLAND,
E.C. McMULLEN Jr.,
GEORGE A. ROMERO,
and many more.

Robert S. Rhine's
SATAN'S 3-RING
CIRCUS OF HELL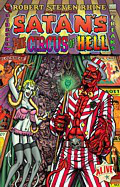 Forward by
GAHAN WILSON &
FEO AMANTE.
Featuring comics by
ALEX PARDEE,
WILLIAM STOUT,
STEVE BISSETTE,
FRANK DIETZ,
JIM SMITH,
FRANK FORTE,
ERIC PIGORS,
MIKE SOSNOWSKI,
OMAHA PEREZ,
DAVID HARTMAN,
STEVEN MANNION,
and more!

And In
CINEMA


E.C. McMullen Jr.


Head Production Designer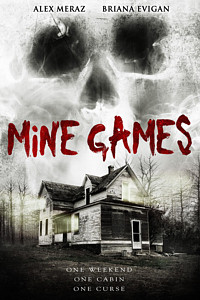 MINE GAMES


(Starring:
JOSEPH CROSS, BRIANA EVIGAN,
ALEX MERAZ)

Production Designer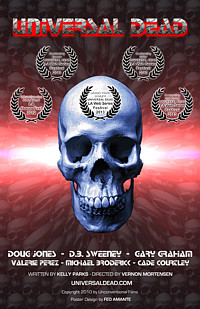 UNIVERSAL DEAD
(DOUG JONES,
D.B. SWEENEY,
GARY GRAHAM)

Art Director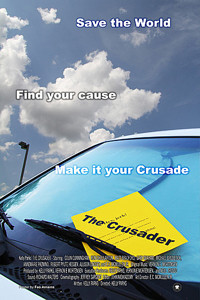 THE CRUSADER
(COLIN CUNNINGHAM,
GARY GRAHAM)
Review by
E.C.McMullen Jr.

BE COOL IF YOU DID


TIP JAR




PICK ME UP

- 2006
Nice Guy Productions / IDT Entertainment / Anchor Bay Entertainment
Rating: N/A
FeoNote: If this was a theatrical release, it would probably have got an R for violence, rape, nudity, torture, gore, and sexual situations.
Oh! And language!
One of the things I like about Larry Cohen (IT'S ALIVE [all], GOD TOLD ME TO, FULL MOON HIGH, Q, SPECIAL EFFECTS, THE STUFF, A RETURN TO SALEM'S LOT, WICKED STEPMOTHER, THE AMBULANCE) ... aw hell, I like everything about Larry Cohen!
No wait! Wait! There is one thing I absolutely do not like about Larry. He doesn't direct enough Horror movies! His last one was over 15 freakin' years ago!
Larry makes good movies and bad movies, but I've yet to see him ever make a dull movie and PICK ME UP is not only one of Larry's best, it is THE best movie to come out of the Masters of Horror series thus far. All other "Masters" take note! Based on a script by David J. Schow (Book: THE KILL RIFF. Movies TEXAS CHAINSAW MASSACRE III, CRITTERS 3, THE CROW, THE TEXAS CHAINSAW MASSACRE: THE BEGINNING), PICK ME UP begins with a road and a snake. A bus driver sees the snake on the road and gleefully runs it over. A young guy in regular clothes plus cowboy boots and a hat steps up to the dead snake and gives it some kind of last rites.
Up the road, the bus breaks down. The passengers are all flabbergasted and one of them, Stacia (Fairuza Balk: THE ISLAND OF DR. MOREAU), sticks out her thumb and takes her act on the road. Soon an 18 wheeler driven by a seemingly nice enough guy named Jim Wheeler (Michael Moriarity: REBORN, Q, MINDSTORM, ALONG CAME A SPIDER) comes along who is willing to give a few folks a ride to get help. Two take him up on it, but one couple has a frightened young woman named Marie who doesn't trust the truck driver, thinking he's some kind of serial killer.
As Jim and the two passengers leave, a young guy in regular clothes plus cowboy boots and a hat steps up to the bus driver and asks if the bus driver, Danny (Tom Pickett: BORDELLO OF BLOOD) could give him a ride. Danny says yes, but his bus is broke down.
"But if it was working," says the young guy, "You'd give me a ride?" Danny affirms this is so. One dead bus driver later and gunshots are heard in the bus. Soon the girl, who thinks every stranger is a serial killer, is running away from one.
I dunno. Maybe she watches too many Horror Thriller movies.
Events among the two folks who hitched a ride with Wheeler in his 18 Wheeler aren't faring any better and soon Jim has returned to the scene of the crime where he discovers, by evidence, that there is another killer on the road. Wheeler is the kind of creep you don't ever want to accept a ride from and the young guy, Walker (Warren Kole), is the kind of creep whom you don't ever want to give a ride. But emergencies and desperation make otherwise reasonable folks do risky things, and there are those among us who prey on the desperate. Only in this case, the shared pickings will make these two serial killers collide, with nasty consequences for anyone caught in the middle.
*TRIVIA
This isn't arguable.
Yes, Eric Red and Robert Harmon's infamous THE HITCHER was released in 1986. That however, was the normal concept of a single serial killer on the loose.
Serial Killers facing off with each other is a rarer breed that rarely works.
Serial killers who prey on serial killers isn't new. Jeff Lindsay's DARKLY DREAMING DEXTER (inspired the TV show, Dexter) began in 2005 and Dennis Latham did it in his novel MICHAEL IN HELL in 2001. But David Schow's screenplay was based on his short story (of the same name) published back in 1991 in the Robert Bloch anthology, PSYCHO-PATHS, and as far as I can tell, he's the originator of this new sub-genre*.
Like more than a few Masters of Horror movies, this one also gets an
!!!UNFAIR RACIAL CLICHÉ ALERT!!!
Dare ye risk movie spoilers to find out what that means? Go to the UNFAIR RACIAL CLICHÉ ALERT/PickMeUp for the full dose.
Director Larry Cohen is no slouch when it comes to Horror Thrillers either. When he's not directing he's writing such films as SCREAM, BABY, SCREAM; DADDY'S GONE A-HUNTING; MANIAC COP; UNCLE SAM; and PHONE BOOTH. When David and Larry got together, sparks flew and the cast & crew made it complete. PICK ME UP is just the right combination of Horror, Thriller, and gore combined with Cohen's morbidly wry sense of humor.






This review copyright 2007 E.C.McMullen Jr.