Review by
E.C. McMullen Jr.

SILENT NIGHT, DEADLY NIGHT

- 1984
USA Release: Nov. 9, 1984
Slayride / Tri-Star / Anchor Bay
Rated: USA: R
"Don't 'Barmak' your movie, my friend."
SILENT NIGHT, DEADLY NIGHT was an attempt to cash in on the Horror craze of the early 1980s (according to the DVD extras) brought about by Carpenter's HALLOWEEN, Romero's DAWN OF THE DEAD, and the surprising hit, Cunningham's FRIDAY THE 13th (which they haven't even made a Special 2 disc edition of yet and already they are talking about a remake! GrrRARRRR! HULK SMASH!).
Wes Craven, still hot after THE LAST HOUSE ON THE LEFT, THE HILLS HAVE EYES, and DEADLY BLESSING, had A NIGHTMARE ON ELM STREET in the pipeline. David Cronenberg was running strong with a series of hits. In less than ten years he'd directed RABID, THE BROOD, SCANNERS, VIDEODROME, and THE DEAD ZONE. The burgeoning video market was making all of these movies hugely profitable hits all over again after they left the theaters. And movies that didn't do so well in theaters were finding new audiences and big money in video rental.
Films like THE EVIL DEAD and MOTEL HELL were actually making more money on video than they did at the cinema. So Tri-Star wanted its own holiday Horror movie, went for the slasher sub-genre, and got together with producer Ira Richard Barmak. Barmak had nothing before his movie, Slayride, and he's done nothing since. Barmak didn't even understand the concept of Horror movies or its audience. When he watched movies from Carpenter, Cronenberg, Craven, and Cunningham, all he saw was "Blood and boobs".
*
TRIVIA
Director Charles E. Sellier Jr. has since contradicted Barmak. According to imdb.com Trivia"
(Sellier) Claims that SILENT NIGHT, DEADLY NIGHT (1984) was not an attack on religion. He says that the Catholic orphanage part was a plot device and nothing more.
Released on DVD in 2007, Anchor Bay Entertainment still couldn't unload this thing and now the movie, by mid-2009, is already out of print.
So he hired writers to write a Horror movie. It didn't matter what holiday it was. HALLOWEEN was taken, so make one about Christmas.
He found a decent Horror novel by Paul Caimi and had first time (and last time) writer, Michael Hickey write the screenplay. Then Barmak found Charles E. Sellier Jr.
Charles had years of experience writing and producing movies but virtually no experience or desire to make a Horror Thriller movie (and apparently no desire to make one since). He'd only actually directed one film prior to Barmak and that was a documentary. Most of Sellier's history up to that point (and ever since) was making documentaries and religious films. That plus the time he spent on the TV series, Grizzly Adams.
Clearly Barmak was unconcerned with making a Horror movie, only presenting one.
Sellier wasn't out to offend Christians with his bloody Christmas movie. After all, he was in the business of making family and Christian movies and certainly didn't want to destroy his reputation. But Barmak had no reputation or audience to lose (he still doesn't) and did everything he could to offend as many Christian folks as possible.
In Ira Barmak's mind, offending Christians in America is safe and sanitized controversial, and controversy gets you lots of attention!
When Ira got on the then popular TV talk show, Phil Donahue Show, he regaled the irritated audience with just how much he enjoyed watching the old and deaf Catholic Priest, dressed as Santa Claus, being shot to death in front of the children. Loud and charmless, he told them the scene made him laugh*. Barmak was utterly convinced that if he had blood and nudity, Horror Thriller fans would look no farther and he could sell his movie by making it "Gasp!" scandalous!
He would tell the world that it was controversial! Many critics and parent groups took his bait, but few paid to see his movie. Horror Thriller fans didn't mind the controversy: hell, Romero was controversial! Cronenberg was controversial! Way back in the 1960s Alfred Hithcock proved that controversy was a good thing, especially for a Horror film.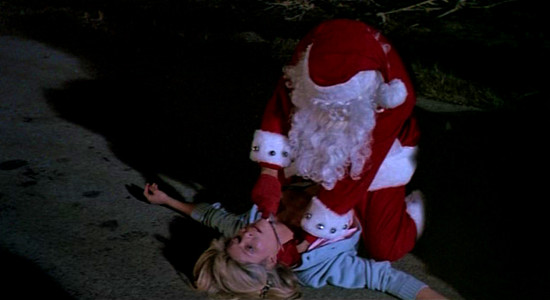 HO! HO! NO!
...unless marketing is all your movie's got. Then it's nothing.
"But wait!" you say. "What about a review of the actual movie?"
Believe me, the most interesting story with this flick is what it did, not what it is. Even to this day it continues to be marketed for its manufactured "controversy" and not for itself.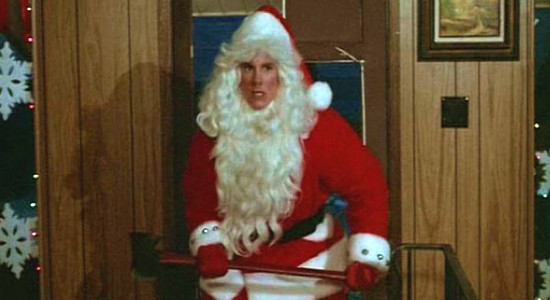 HO! HO! YES!
In SILENT NIGHT, DEADLY NIGHT, 8 year old Billy (Danny Wagner) sees his Pop shot and his Mother raped and murdered by a guy in a Santa Claus suit. He winds up in a Catholic Orphanage where a brutally strict, yet oddly kind-hearted Mother Superior gives him a harsh lesson in punishment. That juxtaposition in character was made easier to swallow thanks to the acting talent of Lilyan Chauvin (PREDATOR 2) than anything in the script. Billy grows up into a hulking doof (Robert Brian Wilson) at the orphanage, where it must be said, an entire really cool Horror movie could have been made about just that freaking place! That orphanage was the creepiest, most intense thing in the whole damn flick!
Sigh...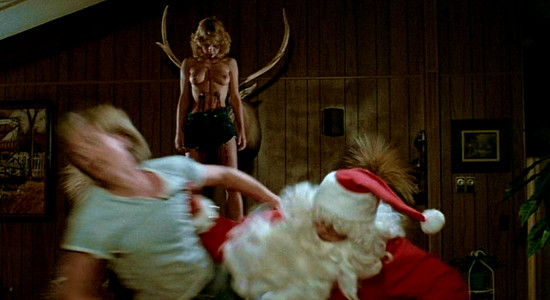 HO! DIDDILY HO! HO! HO!
Anyway, the movie tells us that, because Billy saw "Santa" kill his parents, so he must dress as Santa and go kill other people.
Billy is traumatized by seeing his parents murdered by a guy dressed as Santa. The memory of it haunts him to this day.
Billy is scared of people dressed as Santa!
With the story as they laid it out, it would have made perfect sense for Billy to go around killing people dressed as Santa.
I could even accept him killing people with, say for example, lawn Santa's in their front yard. But he goes off and commits murder dressed as Santa?
More than half of the movie is taken up with a bunch of psychological clap-trap in the hope that we'll swallow it and believe in the last 30 bloody minutes. It doesn't work.
The hellishly bad soundtrack REALLY doesn't work. Worst! Soundtrack! Ever!
You thought the soundtrack to the original THE WICKERMAN was bad? Hoo boy! It also doesn't work that, before Billy goes off the deep end, he saves a woman from being raped and she repays him by screaming at him and beating him with her fists. Understand, she just saw big hulking Billy save her from rape, fight the guy, overpower him, and finally kill him, so she's going to try to overpower Billy? The hell?
For cult completists, SILENT NIGHT, DEADLY NIGHT also has topless shots of Z-movie scream queen, Linnea Quiggly (RETURN OF THE LIVING DEAD, A NIGHTMARE ON ELM STREET 4, INNOCENT BLOOD) at her perkiest. But then, this is Linnea we're talking about and you can find her that way in movies both before and after this one.
All SILENT NIGHT, DEADLY NIGHT ever had going for it was Ira Barmak's big mouth, and he hasn't been talking much since the utter disaster that was this film. Even with all of the tons and tons of press this movie got; even with all of the TV time this movie got; even with Ira getting on the Oprah Winfrey of his day, The Phil Donohue Show, SILENT NIGHT, DEADLY NIGHT only brought in under $2.5 million dollars. Which was crap even for 1984.
Thankfully for Tri-Star, the movie only cost $750 grand to make. You could make the argument that SILENT NIGHT, DEADLY NIGHT, just being a Horror Thriller movie, could have made far more money if it just went into theaters without Barmak's inept "marketing". After all, Ira spent so much money and time running around saying how offensive his movie was, hundreds of theaters pulled it - sight unseen - giving it only about 300 or so screens to play upon. Poor theatrical box office affected how many video rental stores wanted to buy it and in how many copies.
Ira wound up selling the rights for a song and that's when the sequels began: When Ira wasn't blocking the ticket sales with his "marketing". Ira didn't get so much as an Associate Producer credit on SILENT NIGHT, DEADLY NIGHT 2.
In 1990 Brian Yuzna and Charles Band got control of the rights with 4 and that's when the toys, puppets, and dolls were introduced.
For no reason other than misguided ego and a self-destructive need for attention, Ira played himself and would go on to blame everyone but himself.
Lesson to all who seek to dive into the waters of Indie movie production.
One Shriek Girl


This review copyright 2008 E.C.McMullen Jr.