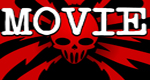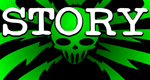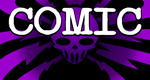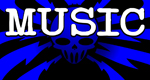 You Support This Site
When You Buy My Books
E.C. McMullen Jr.
PERPETUAL
BULLET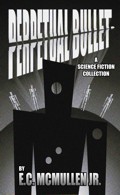 "'Some People' ... may be the standout story in the book."
-

John Grant

, Infinityplus

E.C. McMullen Jr.
WILLOW BLUE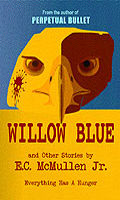 "'Willow Blue' will burrow under your skin and stay there long after you've put the book down."
- Jeffrey Reddick, Creator of
FINAL DESTINATION

IN OTHER BOOKS
E.C. McMullen Jr.'s
short story
CEDO LOOKED LIKE PEOPLE
in the anthology
FEAR THE REAPER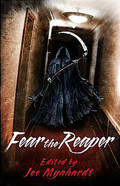 "This Ray Bradbury-esque is one of the most memorable and one of the more original stories I've read in a long time."
- Steve Isaak,
Goodreads

HORROR 201:
The Silver Scream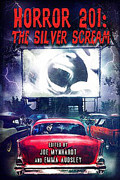 Filmmaker's Guidebook
featuring
RAY BRADBURY,
JOHN CARPENTER,
WES CRAVEN,
TOM HOLLAND,
E.C. McMULLEN Jr.,
GEORGE A. ROMERO,
and many more.



Extensively quoted in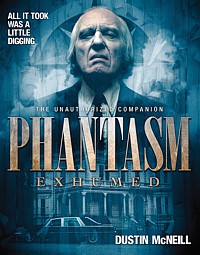 PHANTASM
EXHUMED
The Unauthorized Companion

And
IN CINEMA


E.C. McMullen Jr.


Head Production Designer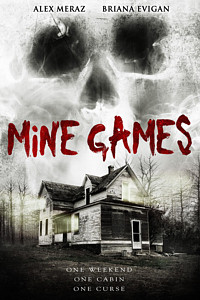 MINE GAMES


(Starring:
JOSEPH CROSS, BRIANA EVIGAN,
ALEX MERAZ)

Dept. head
Special Effects Make-Up
(SFX MUA)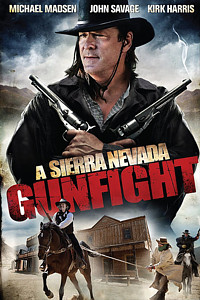 A SIERRA NEVADA
GUNFIGHT
(MICHAEL MADSEN & JOHN SAVAGE).

Production Designer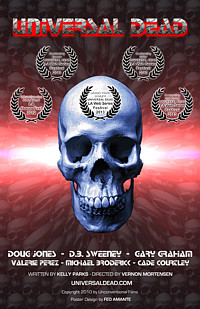 UNIVERSAL DEAD
(DOUG JONES,
D.B. SWEENEY,
GARY GRAHAM)

ART DIRECTOR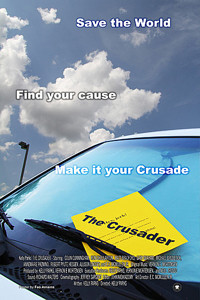 THE CRUSADER
(COLIN CUNNINGHAM,
GARY GRAHAM)
Review by
Mike Oliveri

UNBREAKABLE

- 2000
USA Release: Nov. 22, 2000
Spyglass Entertainment / Hollywood Pictures / Buena Vista Distribution
Ratings: USA: PG-13
Ever since writer/director M. Night Shyamalan hit the big time with the critically acclaimed THE SIXTH SENSE, people have been itching for his next movie. Most of the talk circulating about his much-anticipated "sophomore project" (never mind that he wrote / directed two films earlier: Wide Awake, a comedy, and Praying With Anger, a drama) speculated that it would be a sequel to THE SIXTH SENSE.
Like many, I thought this would be a huge waste of time and energy. How do you follow up a movie like that?
Fortunately, the only thing in common between the two flicks is Bruce Willis, which probably helped to fuel the sequel rumors. This time around Willis plays David Dunne, an average Joe working a security job for a local university. He and his wife Megan (Robin Wright) are having marital problems, possibly related to David's apparent depression. Caught between them is their son Jeremy (Spencer Treat Clark), who really looks up to his father and only wants their family to stay together.
Their lives change dramatically, however, when David becomes the only survivor of a massive train wreck. Megan, seeing it as their second chance, wants to try and make things work between them, while Jeremy now sees his father as a hero.
But the real changes come when David meets the eccentric comic book art collector Elijah Price (Samuel L. Jackson: THE EXORCIST III, JURASSIC PARK, DEEP BLUE SEA). Elijah, born with a rare disease that leaves his bones as brittle as glass, is convinced that David is his opposite; that he is literally unbreakable, indestructible, and has a higher destiny to fulfill.
There are some great character interactions, especially when Jeremy and David are exploring the extent of David's supposed power together. Some of them are humorous or touching, while another is fraught with tension and drama. Sam Jackson turns in an outstanding performance as Elijah, invoking some hearty laughs and, at one point, reminding me of his "Ezekiel 25:17" bit from PULP FICTION. Willis also plays his character well, but Jackson steals the show.
UNBREAKABLE DVD EASTER EGGS
Hidden "The Sixth Sense" Trailer:
Watch the credits for Comic Books And Super Heroes on the second disc (single disc, Blu-Ray).
Press Angle Change to watch the trailer for director M. Night Shyamalan's "The Sixth Sense."
Shyamalan's direction and writing are nearly flawless. The comic book theme plays heavily into the plot, and while it greatly helps to have at least an understanding of general comic book themes, I think anyone willing to relax and accept the film as fantasy will enjoy it.
His camera work stands out as well, giving us the impression of eavesdropping. In the beginning, we are watching David from between the seats in the train's passenger car, from the POV of a little girl. In another scene, we are looking over David's shoulder as he is reading a note left in his windshield. In still another, we are looking down into a closet, as if peeking through an attic entry. And there are several moments where we are observing actions from the POVs of the characters themselves. All serve to really involve the audience in the film.
Drama plays heavily into the film, almost but not quite slowing the action down. Rather than losing us with meaningless pap and dialog, Shyamalan keeps things moving just enough to keep us interested, and is almost always dropping hints as to what's happening in the overall scope of the flick.
And once again he hits us with a gutbuster surprise ending. Some may see it coming, but I think most will not. In my case, I predicted an ending 180 degrees away from the true outcome. I was pleasantly surprised, and my wife and I could not stop talking about it during our hour-long ride home. Rare is the film that sticks in my mind that much.
Do yourself a favor and see this movie as soon as possible. Sit back and relax, and don't think about it too hard. Let Shyamalan tell the story at his pace, and I bet you'll have a great time.
I give it five shriek girls.






This review copyright 2000 E.C.McMullen Jr.
YOU MIGHT ALSO ENJOY
(Sub-Section: CREATED SUPER-HUMANS)
ALTERED
MOVIE REVIEW
CHRONICLE
MOVIE REVIEW
SPIDER-MAN - 2002
MOVIE REVIEW