Review by
Kelly Parks

COULD YOU?


TIP JAR




Stephen Spielberg's WAR OF THE WORLDS

- 2005
USA Release: June 29, 2005
Paramount Pictures
Rating: USA: PG-13
Some have been irritated by this movie being referred to as "Steven Spielberg's War of the Worlds", thinking if anyone's name goes over the title it should be H.G. Wells, author of the original novel. Maybe so. But Wells' story is not the standard I'll be using to judge this film. There's a different name that comes to mind, but I'll save that for later.
WAR OF THE WORLDS was directed by the aforementioned Mr. Spielberg (DUEL, JAWS, RAIDERS OF THE LOST ARK, JURASSIC PARK, MINORITY REPORT) and written by Josh Friedman (CHAIN REACTION) and David Koepp (APARTMENT ZERO, JURASSIC PARK, STIR OF ECHOES, SPIDER-MAN). The movie opens with the narration of Morgan Freeman (THE SUM OF ALL FEARS, DREAMCATCHER, BATMAN BEGINS), paraphrasing the opening paragraph of H.G. Wells' novel. The line, "…across the gulf of space, minds vast and cool and unsympathetic regarded our Earth with envious eyes" is my personal favorite because it does set the tone of the story.
Ray Ferrier (Tom Cruise: INTERVIEW WITH THE VAMPIRE, VANILLA SKY, MINORITY REPORT) is an East Coast dock worker and divorced Dad. He comes home from work to find his ex-wife Ann (Miranda Otto: THE LORD OF THE RINGS: THE TWO TOWERS, THE LORD OF THE RINGS: RETURN OF THE KING) and her new husband waiting for him. They're there to drop off Ray's kids for the weekend: his 16 year old rebellious son Robbie (Justin Chatwin: TAKING LIVES) and his much younger daughter Rachel (Dakota Fanning: TAKEN [TV], MAN ON FIRE, HIDE AND SEEK). We quickly learn that Ray isn't much of a Dad, barely feigning an interest in his children.
We also see a variety of news reports about strange lightning storms taking place all over the world. Ray thinks it's cool when such a storm appears over his town, but the bolts of lightning come so fast and furious that he ends up hiding under a table with his daughter. Afterward he goes out looking for his son (who has left without permission - damn kids) and that's when the machines appear.
And by machines, I mean the alien war machines (I can't call them the Martian war machines because Mars is never mentioned at any point in the movie). These huge walking tripods are my favorite part of this movie because the effect is so good. They look as Wells originally described them but they also look very real, like actual machines (including many machine-like sound effects) walking through the suburbs. Impressive.
The lightning storm produced an EMP (Electro Magnetic Pulse) effect which knocked out the power, the phones and all the cars, but by a stroke of luck Ray manages to commandeer one of the few working vehicles. He and his children get away but pretty much everyone else dies once the tripods start moving. They kill everyone they see, determined to exterminate humanity. This makes for a good story but bothered me afterward because the way they're doing it was so inefficient. If I wanted to kill as many people as I could and wasn't interested in preserving infrastructure, I'd nuke every city and town all at once. Or better yet (if I was leading an alien invasion force) I'd drop rocks. A mountain-sized rock coming in at 7 miles per second has the equivalent energy of a nuke without any of the radiation. Very efficient.
But that's just me. What the invaders lack in efficiency they make up for in ruthlessness. Ray manages to get to his ex-wife's house (where the power is still on) and desperately tries to keep his children calm. Rachel is terrified and convinced her father isn't telling her everything (he's not) while Robbie is angry. He demands to know why his Dad doesn't want to hurt the invaders back. Both are familiar in our post 9/11 era, which the movie acknowledges several times. When Rachel first sees the destruction being caused by the tripods she asks, "Is it the terrorists?"*
I assume you know that not even an alien invasion could stop the
*




TRIVIA


Social commentary has a long association with WAR OF THE WORLDS. When Wells wrote the novel in 1898 he meant it as social commentary. He lived at the tail end of the era of colonial imperialism, when many European nations had colonies in Africa and Asia. Wells meant his Martian invasion story as a "what if it happened to you" kind of metaphor.
!!!SCIENCE MOMENT!!!:
At one point a character says, "This isn't a war, anymore than there's a war between men and maggots." But the alien technology is just advanced, not god-like, and really not even all that advanced. Maybe a century - certainly not much more than that.
The core of the story is bad father Ray's relationship with his children. That part of the story is predictable and in some ways more of a strain on my suspension of disbelief than the aliens. What happens is what you'd expect to happen.
Speaking of expectations, they're pretty high for this movie. Steven Spielberg, Tom Cruise, summer block buster, all add up to what is supposed to be a great movie. But is it?
No. It's not a bad movie and there are lots of cool parts, like the tripods, the cameo by Tim Robbins (JACOB'S LADDER) as a crazed survivor determined to fight back, and the battle scenes when our military does fight back, but there's just not enough here to make it a blockbuster. Much of it is predictable and the ending is of the low key, trail off variety which most people will find unsatisfying.
And what's especially unsatisfying is the comparison between "Steven Spielberg's WAR OF THE WORLDS" and "George Pal's WAR OF THE WORLDS". George Pal's 1953 movie version of Wells' story is the true standard to measure against that I alluded to earlier, and Spielberg suffers by comparison. I understand that Spielberg was trying to go smaller, focusing on how all this affected a single "regular guy" instead of the ensemble in Pal's version, but the key question for a remake is, "Is it better than, or at least as good as, the original?" The answer to this question is also, "No."
My fellow geeks may have heard that two stars of George Pal's WAR OF THE WORLDS, Gene Barry and Ann Robinson, have cameos here and they do but if you blink you'll miss them.
But you won't miss this: Steven Spielberg's WAR OF THE WORLDS barely gets three shriek girls.





This review copyright 2005 E.C.McMullen Jr.
E.C. McMullen Jr. is a participant in the Amazon Services LLC Associates Program, an affiliate advertising program designed to provide a means for sites to earn advertising fees by advertising and linking to amazon.com.
LOVE THIS SITE?




KEEP IT GOING WHEN YOU BUY MY STUFF!
LOVE THIS SITE?
Support it when you buy from
E.C. McMullen Jr.
PERPETUAL BULLET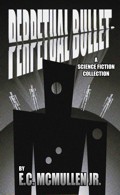 "'Some People' ... may be the standout story in the book."
- John Grant, Infinityplus

WILLOW BLUE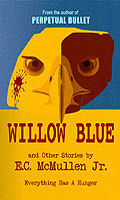 "'Willow Blue' will burrow under your skin and stay there long after you've put the book down."
- Jeffrey Reddick, Creator of
FINAL DESTINATION

IN OTHER BOOKS
E.C. McMullen Jr.'s
short story
CEDO LOOKED LIKE PEOPLE
in the anthology
FEAR THE REAPER


"This Ray Bradbury-esque is one of the most memorable and one of the more original stories I've read in a long time."
- Amazon Review
HORROR 201: The Silver Scream
PAPERBACK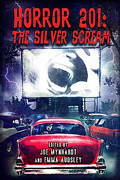 Filmmaker's Guidebook
featuring
RAY BRADBURY,
JOHN CARPENTER,
WES CRAVEN,
TOM HOLLAND,
E.C. McMULLEN Jr.,
ED NAHA,
GEORGE A. ROMERO,
and many more.
Extensively quoted in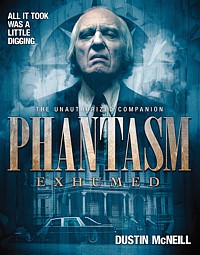 PHANTASM EXHUMED
The Unauthorized Companion

Robert S. Rhine's
SATAN'S 3-RING CIRCUS OF HELL


Forward by
GAHAN WILSON,
FEO AMANTE.
Featuring comics by
WILLIAM STOUT,
HILARY BARTA,
STEVE BISSETTE,
FRANK DIETZ,
JIM SMITH,
TONE RODRIGUEZ,
FRANK FORTE,
ERIC PIGORS,
ALEX PARDEE,
MIKE SOSNOWSKI,
OMAHA PEREZ,
DAVID HARTMAN,
D.W. FRYDENDALL,
SHANNON WHEELER,
VINCENT WALLER,
JACOB HAIR,
NENAD GUCUNJA,
STEVEN MANNION,
and more!
ALSO
IN CINEMA
E.C. McMullen Jr.
HEAD PRODUCTION DESIGNER


MINE GAMES
(Starring:
JOSEPH CROSS, ALEX MERAZ, BRIANA EVIGAN)
Dept. head
SPECIAL EFFECTS MAKE-UP
(SFX MUA) and Michael Madsen's stunt double on the movie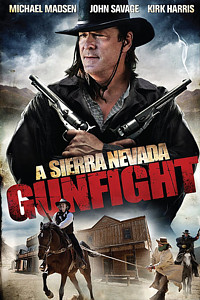 A SIERRA NEVADA GUNFIGHT
(Starring:
MICHAEL MADSEN and JOHN SAVAGE).

PRODUCTION DESIGNER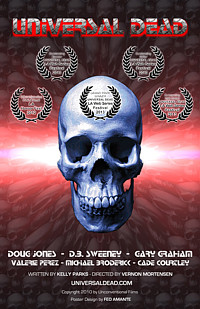 UNIVERSAL DEAD
(Starring:
DOUG JONES, D.B. SWEENEY, GARY GRAHAM)

ART DIRECTOR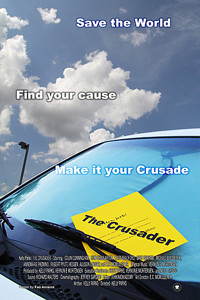 THE CRUSADER
(Starring COLIN CUNNINGHAM, GARY GRAHAM)