Review by
E.C.McMullen Jr.

FRANKENSTEIN MEETS THE WOLF MAN

- 1943
USA Release: March 5, 1943
Universal Pictures
Rated: USA: N/A
A couple of ne'er do well grave robbers choose to rob the Landwelly crypt of Lawrence Talbot. He died four years ago and it is said he was buried with money and jewels. The graverobbers expect to find a skeleton. What they get is a corpse so fresh he looks as though he is merely asleep. One of them, in his ignorance, removes a bunch of wolfbane that covers the body and merry mishaps occur.
Sometime later in far off Cardiff, Lawrence Talbot (Lon Chaney Jr. [all the Universal Pictures Wolf Man movies until his death], THE GHOST OF FRANKENSTEIN) arrives with a headwound and suffering from amnesia. He's taken to the local hospital where Dr. Mannering (Patric Knowles: THE WOLF MAN, THE STRANGE CASE OF DR Rx, MYSTERY OF MARIE ROGET, TERROR IN THE WAX MUSEUM [1973], ARNOLD) performs a life-saving operation. Lawrence would have lived anyway but Mannering doesn't know that. But the doctor is stunned to discover that, within minutes of the operation, his patient is sitting up in bed and talking, which should be impossible. Lawrence's memory is fractured and he may be suffering from amnesia. He knows his name, but he doesn't know how he got to Cardiff. As an initial investigation reveals, he also doesn't know that Lawrence Talbot has been dead for the last four years.
Lawrence does know that he's a murderous werewolf.
What Lawrence knows is what Police Inspector Owen (Dennis Hoey: PHANTOM SHIP, SHERLOCK HOLMES FACES DEATH, THE SPIDER WOMAN, THE PEARL OF DEATH, THE HOUSE OF FEAR, TERROR BY NIGHT, SHE-WOLF OF LONDON) doesn't believe. So he and Dr. Mannering go to Landwelly to look inside the tomb of Lawrence Talbot. What they find there only raises gruesome questions. The local constable Guno (Henry Stubbs: WEREWOLF OF LONDON, THE INVISIBLE MAN RETURNS, THE HOUSE OF THE SEVEN GABLES, THE MUMMY'S HAND, THE WOLF MAN) knew of Lawrence and has his photograph. To the Inspector and Doctor's surprised concern, the man in the photograph looks remarkably like their Lawrence Talbot in Cardiff. But that too must be impossible. The doctor suggests the Landwelly constable return to Cardiff with him and the inspector, to see the alleged Lawrence Talbot in person, but when he calls the hospital to make arrangements, he discovers that Talbot has escaped.
More time passes and after years of searching through Europe, Lawrence finally finds Maleva the old gypsy woman (Maria Ouspenskaya: THE WOLF MAN, MYSTERY OF MARIE ROGET). It was her son, Bela, who bit Lawrence and gave him the werewolf curse.
Lawrence wants to die. He can't do it to himself as he seems to be immortal. And yet, he killed Bela and he was a werewolf, so what's up with that?
Seems a werewolf can only be killed if the curse is transfered to another. Bela died because with the bite, his werewolf spirit moved into Lawrence. Well Larry doesn't want to damn anyone with his curse, so how else can he die and rid the world of this awful murderous thing?
Maleva knows of one man who might be able to help. So off they go to the castle of Henry Frankenstein. But that takes time and Maleva's horse drawn wagon is slow. Periodically they have to make a stop while Lawrence runs off into the woods to deal with his monthly "curse".
Eventually they make it to Frankenstein's castle only to discover that the doctor is dead, the castle is in burnt ruins, and the local villagers are hair-trigger skittish about folks who so much as whisper the words, "Dr. Frankenstein."
With the doctor and the creature dead, the mayor of the village (Lionel Atwill: DOCTOR X, THE VAMPIRE BAT, MYSTERY OF THE WAX MUSEUM, SON OF FRANKENSTEIN, MAN MADE MONSTER, THE GHOST OF FRANKENSTEIN, THE STRANGE CASE OF DOCTOR Rx, NIGHT MONSTER, HOUSE OF FRANKENSTEIN, HOUSE OF DRACULA) wants to heal his community and thinks that making Dr. Frankenstein's daughter, Baroness Elsa Frankenstein (Ilona Massey: INVISIBLE AGENT), the village's guest of honor at their annual wine fest. Not what I would call a good idea, but he is a politician after all and I'm not familiar with their local customs.
Lawrence Talbot is there all nice and cleaned up in a suit and tie, on a date with Elsa, while Maleva cools her heels in the local jail (the villagers have a problem with scientists and witches). During the film's musical number, Lawrence angrily breaks up the village merriment (much to my relief), because this is supposed to be a monster movie god dammit!
Dr. Mannering steps back into the picture. Mannering has been following Talbot's trail of bodies all over Europe and they led him here.
*
TRIVIA
Bela owned many of his roles, from becoming the ubiquitous Count in DRACULA to Murder Legrange in WHITE ZOMBIE, to Ygor in SON OF FRANKENSTEIN. He was the consumate Sayer of the Law in ISLAND OF LOST SOULS. But the role of Frankenstein's creature wasn't for him.

Once Boris Karloff played an angry hulking giant of a monster with such a perfect conviction of stumble and subtlety, no one in the 20th Century was ever going to take it away. That said, the one thing Lugosi changed (
not for the better in my opinion
) that stayed with the Frankenstein creature, was extending his arms out, hands splayed like movie sleepwalkers and ghosts were portrayed in most of that century. Both Karloff and Lugosi had large hands and used them effectively in their act: Karloff with subtlety, Lugosi with (
sometimes too much
) flair.
The Doctor wants Talbot to go back with him and stay in an insane asylum. Talbot wants Dr. Frankenstein's diary which might reveal how to kill an immortal. After all, he created one, maybe he knew how to reverse it. Elsa finds herself attracted to both men and, when the Frankenstein creature (Bela Lugosi*: DRACULA [1931], WHITE ZOMBIE, SON OF FRANKENSTEIN, THE HUMAN MONSTER, THE DEVIL BAT, THE WOLF MAN, THE CORPSE VANISHES) chooses that moment to inexplicably terrorize the village for auld lang syne, she agrees to help Talbot destroy himself and the monster.
And that would wrap everything up in a neat tidy package except for one thing: Dr. Frankenstein was a mad scientist, true. His work was never recognized by the science community; wasn't reviewed in any of the established science publications of the time; he didn't get invited to JREF conventions and scientist parties where they whispered about him behind his back.
But oh, WHAT whispers! Doctor Henry Frankenstein was wrong, unethical, bad, BUT: he was also a wickedly unbridled, tormented genius! He discovered the kinds of things that make any staid respectable scientist swoon with the romance of unethical delight. Once Dr. Mannering starts reading Dr. Frankenstein's diary he begins pondering. If you were a scientist and had access to a brilliant mad scientist's secret journals, wouldn't you ponder what Dr. Mannering pondered?

Director Roy William Neill (DOCTOR SYN, THE SPIDER WOMAN, THE HOUSE OF FEAR, TERROR BY NIGHT), didn't do a bad job with this second werewolf outing, having been an established director for over 25 years at the time of this movie. Writer Curt Siodmak set the high bar standard that many subsequent writers would either attempt to emulate or fail to reach. Curt's stories became the myth of Werewolves for the rest of the century and then some.

Will Dr. Mannering succumb to the temptations of Frankenstein's journals? Will he fall in love with Elsa? Will the friendship of Lawrence and the Frankenstein critter be tested when Lawrence turns into a werewolf? Will Maleva get out of jail? Will the villagers ever rid themselves of the damn Frankenstein varmint? And what of the mayor? Will he make better choices in the future?
All of these questions, plus a surprise return to the series by actor Dwight Frye as the villager Rudi, will be answered when you watch, FRANKENSTEIN MEETS THE WOLF MAN.
Four Shriek Girls





This review copyright 2012 E.C.McMullen Jr.
E.C. McMullen Jr. is a participant in the Amazon Services LLC Associates Program, an affiliate advertising program designed to provide a means for sites to earn advertising fees by advertising and linking to amazon.com.
LOVE THIS SITE?
Support it when you buy from
E.C. McMullen Jr.
PERPETUAL BULLET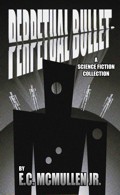 "'Some People' ... may be the standout story in the book."
- John Grant, Infinityplus

WILLOW BLUE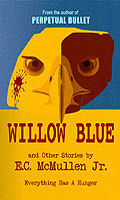 "'Willow Blue' will burrow under your skin and stay there long after you've put the book down."
- Jeffrey Reddick, Creator of
FINAL DESTINATION

IN OTHER BOOKS
E.C. McMullen Jr.'s
short story
CEDO LOOKED LIKE PEOPLE
in the anthology
FEAR THE REAPER


"This Ray Bradbury-esque is one of the most memorable and one of the more original stories I've read in a long time."
- Amazon Review
HORROR 201: The Silver Scream
PAPERBACK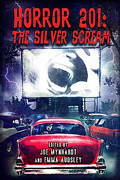 Filmmaker's Guidebook
featuring
RAY BRADBURY,
JOHN CARPENTER,
WES CRAVEN,
TOM HOLLAND,
E.C. McMULLEN Jr.,
ED NAHA,
GEORGE A. ROMERO,
and many more.
Extensively quoted in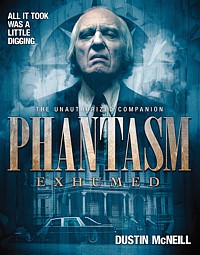 PHANTASM EXHUMED
The Unauthorized Companion

Robert S. Rhine's
SATAN'S 3-RING CIRCUS OF HELL


Forward by
GAHAN WILSON,
FEO AMANTE.
Featuring comics by
WILLIAM STOUT,
HILARY BARTA,
STEVE BISSETTE,
FRANK DIETZ,
JIM SMITH,
TONE RODRIGUEZ,
FRANK FORTE,
ERIC PIGORS,
ALEX PARDEE,
MIKE SOSNOWSKI,
OMAHA PEREZ,
DAVID HARTMAN,
D.W. FRYDENDALL,
SHANNON WHEELER,
VINCENT WALLER,
JACOB HAIR,
NENAD GUCUNJA,
STEVEN MANNION,
and more!
ALSO
IN CINEMA
E.C. McMullen Jr.
HEAD PRODUCTION DESIGNER


MINE GAMES
(Starring:
JOSEPH CROSS, ALEX MERAZ, BRIANA EVIGAN)
Dept. head
SPECIAL EFFECTS MAKE-UP
(SFX MUA) and Michael Madsen's stunt double on the movie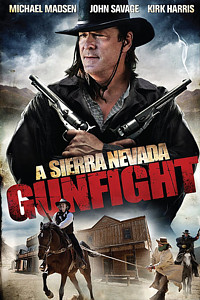 A SIERRA NEVADA GUNFIGHT
(Starring:
MICHAEL MADSEN and JOHN SAVAGE).

PRODUCTION DESIGNER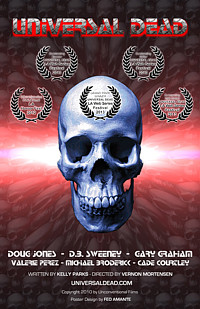 UNIVERSAL DEAD
(Starring:
DOUG JONES, D.B. SWEENEY, GARY GRAHAM)

ART DIRECTOR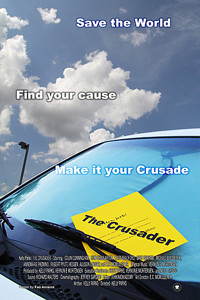 THE CRUSADER
(Starring COLIN CUNNINGHAM, GARY GRAHAM)