Review by
E.C. McMullen Jr.

IS IT POSSIBLE?


TIP JAR




GODZILLA


REVIEW PAGE

FRANKENSTEIN VS. BARAGON aka Frankenstein Conquers the World

- 1965
Toho Company, Benedict Pictures, Henry G. Saperstein Enterprises Inc., American International
Rated: N/A
When you're a Kaiju fan, there's just something so cool and reassuring about that rainbow glitter-glowing Toho logo.
Anyway, we open to a dark laboratory where presumably dark things are happening. What is really happening is that it's winter in World War II, Allied forces are invading Germany, and a scientist, Dr. Riesendorf (Peter Mann), is pleased with a red jar of Kool-Aid in a metal case.
When he hears a knock at the door, he excitedly thinks it's coming from the case he just closed.
No such luck. Nazis are at the door and they have a letter. Whatever it says, it has something to do with them wanting that Kool-Aid!
The scientist sadly gives them the case. Then, just as they are about to leave, he stops them, and sadly gives them the key to the case. Then, as the last Nazi soldier is about to leave, he witnesses the scientist go on a rampage in his lab.
The metal case is put on a submarine and begins a long, expensive, and dangerous journey to the other side of the planet to deliver the case to the Japanese.
You'd think it'd be way cheaper and way faster to just fly the case over to Japan. But the reason the Nazis lost WW II was for making poor decisions like this.
The case gets delivered - the Japanese have no idea what they are about to receive - and the German U-boat gets blow'd up by an allied plane.
As it turns out, the case contains much more than Kool-Aid. It contains the still beating heart of Frankenstein!
Frankenstein can't die, as anyone who has ever seen the tons of Frankenstein movies can attest.
Oh you may Think you've killed him, but you're fooling yourself!
Once the Japanese scientist (Takashi Shimura: GODZILLA, THE MYSTERIANS, MOTHRA, GORATH, THE LOST WORLD OF SINBAD, GHIDORAH, THE THREE-HEADED MONSTER) know what they have, they imagine the possibilities. If they can discover from this heart, how Doctor Frankenstein created an immortal creature, why, just imagine the afore-mentioned possibilities!
Which would be?
Well, for example, to make soldiers who never die from getting shot. If we can do that, 80 to 90% of our soldiers who die in wars - wouldn't! Well, barring the ones that get blown to smithereens of course.
And speaking of smithereens, this all happens to take place in Hiroshima on August 6, 1945, when the Enola Gay was flying over that day.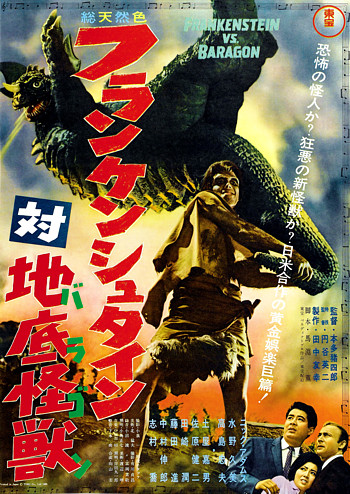 Japanese poster gets right to the point and then some,
including as always, the printed soundtrack on the edges!
15 years later, at the Hiroshima International Institute of Radiotherapentics (I've no idea), blonde haired, blue-eyed Doctor Bowen (Nick Adams: DIE, MONSTER, DIE!, INVASION OF ASTRO-MONSTER, MISSION MARS) and his Japanese assistant Dr. Sueko Togami (Kumi Mizuno: GORATH, LOST WORLD OF SINBAD, MATANGO, INVASION OF ASTRO-MONSTER, GODZILLA VS. THE SEA MONSTER, THE WAR OF THE GARGANTUAS, GODZILLA AGAINST MECHAGODZILLA, GODZILLA: FINAL WARS) are checking on his patients. One of them, a dying young girl, gives Dr. Bowen a personally embroidered pillow.
Doctor Bowen is performing experiments on living cells and lethal doses of radiation. He is attempting to cure the people who, 15 years after the bomb, are only now suffering from the delayed effects of radiation. Back in his lab, with the help of Dr. Ken'ichiro Kawaji (Tadao Takashima: GODZILLA RAIDS AGAIN, THE H-MAN, BATTLE IN OUTER SPACE, THE HUMAN VAPOR, VARAN THE UNBELIEVABLE, MATANGO, INVASION OF THE ASTRO-MONSTER, SON OF GODZILLA, DESTROY ALL MONSTERS, YOG: MONSTER FROM SPACE, GODZILLA VS. KING GHIDORAH), new discoveries are being made. There's progress, there's good news, but the research isn't moving fast enough to save this wave of patients who are dying off at an alarming rate.
"The story of Hiroshima is too tragic," Dr. Bowen says. "But it's also a fact that it has given us the opportunity to study cellular tissues of the human body. We must work to turn tragedy into eternal peace and happiness in the future."
Dr. Bowen is nothing if not astoundingly optimistically opportunistic!
Meanwhile, a sloe-eyed kid (Sumio Nakao) with a thick cranial brow is roaming the night streets of Hiroshima and stealing pets. School rabbits are found torn to pieces and left on the floor. Hiroshima is in the grip of a degenerate!
We see a scene where a waif gets hit by a taxi driver, who chooses to drive off rather than get help. When kindly Dr. Bowen and his assistant discover the child, the assistant throws him a swag bag and they wash their hands of the matter. The way they talk about it, 1960s Hiroshima had lots of waifs wandering around, causing trouble, and garnering no empathy from the locals.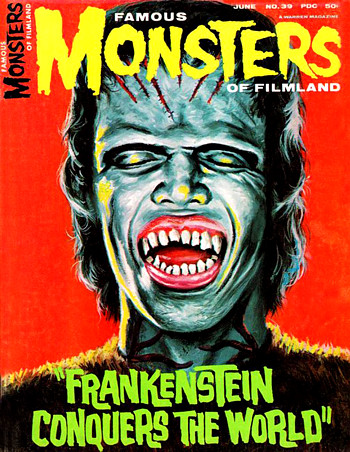 When you're a Monster, getting your face on the cover of
FAMOUS MONSTERS is kind of a Big Deal.
But there is something special about this feral waif, for he turns out to be none other than the fully reformed Frankenstein creature: now without the scars and other metal accoutrements.
When the doctors at the Hiroshima International Institute of Radiotherapentics (HIIR) catch him, they are as perplexed as anyone over the unique nature of this person. Once they realize that they actually have the reconstituted body of the original Frankenstein creature on their hands, that grew on its own from a single heart, they are agog (who wouldn't be?)!
Once the violent mutant starts growing into a giant (Kôji Furuhata) at an alarming rate, they are stunned!
And how they jump to all of their amazing "scientific" conclusions are breathtaking. But that's what I've come to expect from Japanese movies, so I'm along for the ride.
Kid grows into a titanic giant, as you'd know if you saw the movie poster, and he battles Baragon (Haruo Nakajima: GODZILLA [1954], GODZILLA RAIDS AGAIN, RODAN, THE MYSTERIANS, THE H-MAN, DAIKAIJÛ BARAN, THE HUMAN VAPOR, MOTHRA, GORATH, KING KONG VS. GODZILLA, GHIDORAH, THE THREE-HEADED MONSTER, INVASION OF THE ASTRO-MONSTER, GODZILLA VS. THE SEA MONSTER, KING KONG ESCAPES, SON OF GODZILLA, WAR OF THE GARGANTUAS, DESTROY ALL MONSTERS, U 4000, GODZILLA'S REVENGE, YOG: MONSTER FROM SPACE, GODZILLA VS. THE SMOG MONSTER, GODZILLA VS. GIGAN) which you'd know from the title.
Wait, Baragon?
Just what or who in the Toho pantheon is a Baragon?
Baragon is a cute giant monster created for this movie. He comes out of nowhere, for no adequately explained reason other than, "Look! There he is!" and that's that.
Baragon didn't get far outside of FRANKENSTEIN VS BARAGON, possibly because he was just so cute - like a giant dino-puppy complete with adorable floppy ears.
So why did we need Baragon anyway when we had a pefectly servicable Godzilla? Believe it or not, the suits at Toho felt that a fight between a giant Frankenstein and Godzilla would be too implausible.
Come, come! We have a sophisticated audience here! We can't just make up any crazy thing!
TRIVIA
FRANKENSTEIN VS. BARAGON
Writers
(Original Screen Story)
Willis H. O'Brien (never credited or paid), Reuben Bercovitch
Screenplay
Jerry Sohl,
Takeshi Kimura (as Kaoru Mabuchi) - American version
Based on a character by Mary Shelley Wollenstonecraft- novel "Frankenstein"
*
Yes, in this movie the creature is actually called Frankenstein.
The Frankenstein creature is also supposed to be a full-blooded Caucasian, which would make sense. Except that to look at him, he looks like a deformed Asian kid in every respect. And that makes sense, because both the young Frankenstein* and the adult Frankentein were played by Japanese actors.
There are some intentionally funny moments in FRANKENSTEIN VS. BARAGON, like where the abnormally tall, but not yet giant creature seems lasciviously attracted to Dr. Togami's rack. Turns out it's something else entirely that makes him paw and giggle, but that's Japanese humor for you.
Like the original GOJIRA, Director Ishirô Honda tried hard with FRANKENSTEIN VS. BARAGON to present realistic people in a realistic setting, behaving rationally under fantastic circumstances.
FRANKENSTEIN VS. BARAGON is one of the best of the TOHO library.
Three Shriek Girls.




This review copyright 2012 E.C.McMullen Jr.