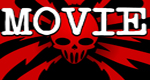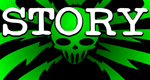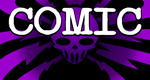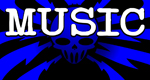 You Support This Site
When You Buy My Books
E.C. McMullen Jr.
PERPETUAL
BULLET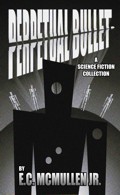 "'Some People' ... may be the standout story in the book."
-

John Grant

, Infinityplus

E.C. McMullen Jr.
WILLOW BLUE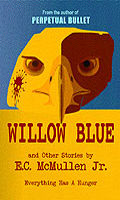 "'Willow Blue' will burrow under your skin and stay there long after you've put the book down."
- Jeffrey Reddick, Creator of
FINAL DESTINATION

IN OTHER BOOKS
E.C. McMullen Jr.'s
short story
CEDO LOOKED LIKE PEOPLE
in the anthology
FEAR THE REAPER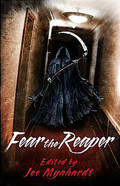 "This Ray Bradbury-esque is one of the most memorable and one of the more original stories I've read in a long time."
- Steve Isaak,
Goodreads

HORROR 201:
The Silver Scream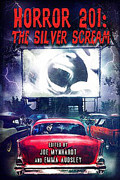 Filmmaker's Guidebook
featuring
RAY BRADBURY,
JOHN CARPENTER,
WES CRAVEN,
TOM HOLLAND,
E.C. McMULLEN Jr.,
GEORGE A. ROMERO,
and many more.



Extensively quoted in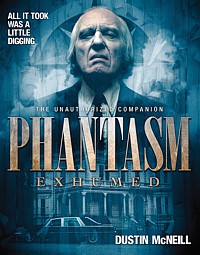 PHANTASM
EXHUMED
The Unauthorized Companion

Robert S. Rhine's
SATAN'S 3-RING
CIRCUS OF HELL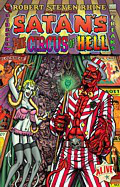 Forward by
GAHAN WILSON &
FEO AMANTE.
Featuring comics by
ALEX PARDEE,
WILLIAM STOUT,
STEVE BISSETTE,
FRANK DIETZ,
JIM SMITH,
FRANK FORTE,
ERIC PIGORS,
MIKE SOSNOWSKI,
OMAHA PEREZ,
DAVID HARTMAN,
STEVEN MANNION,
and more!

And
IN CINEMA


E.C. McMullen Jr.


Head Production Designer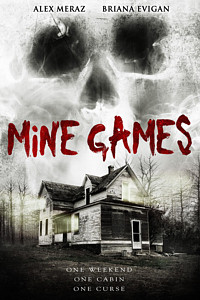 MINE GAMES


(Starring:
JOSEPH CROSS, BRIANA EVIGAN,
ALEX MERAZ)

Dept. head
Special Effects Make-Up
(SFX MUA)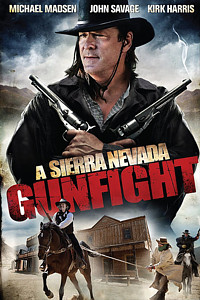 A SIERRA NEVADA
GUNFIGHT
(MICHAEL MADSEN & JOHN SAVAGE).

Production Designer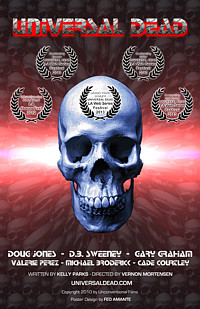 UNIVERSAL DEAD
(DOUG JONES,
D.B. SWEENEY,
GARY GRAHAM)

ART DIRECTOR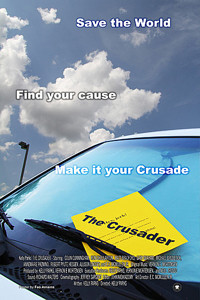 THE CRUSADER
(COLIN CUNNINGHAM,
GARY GRAHAM)
Review by
Kelly Parks

DAWN OF THE DEAD

- 2004
USA Release: March 19, 2004
Strike Entertainment, New Amsterdam Entertainment, Metropolitan Filmexport, Toho-Towa, Universal Pictures
Rating: USA: R
It's confusing, I know. There's lots of movies with "Dead" in the title and lots of zombie movies. Unless you're a fan of the genre it's easy for people to get them mixed up. So let me make this really clear. The three movies that matter are NIGHT OF THE LIVING DEAD - 1968, DAWN OF THE DEAD - 1978, and DAY OF THE DEAD - 1985 (the last one, DAY OF THE DEAD, is one of my all time favorite horror movies).
A remake of NIGHT OF THE LIVING DEAD came out in 1990 and was nothing special. It didn't suck like Tim Burton's re-imagining of PLANET OF THE APES but it didn't really add anything either. Other than being in color it didn't stray much from the original story. If you're going to re-make a movie – especially a really good movie – you've got to have a new twist.
DISC EXTRAS
There are lots of extras on the disc, including three separate short featurettes about the zombie effects and a collection of deleted scenes with commentary. The most interesting extras are two dramatic pieces meant to complement the film. The first is called "Special Report" and is presented as what you would have seen on the local news as the undead first appeared and civilization began to crumble. This segment has its moments but overall is pretty amateurish and not especially believable.
The second dramatic extra is presented as a video record made by Andy the Gun Store owner (Bruce Bohne: FARGO). In the movie the main characters only see Andy through binoculars as he snipes zombies from his store rooftop. Here we see glimpses of what he went through and get to know him a little better. Nicely done.
TRIVIA
The mall is a shop load of references to previous Dead movies including DAWN.
Watch for stores like Gaylen Ross (the name of the actress in the first DAWN OF THE DEAD movie).
Photoshop folks go nuts for DAWN OF THE DEAD 2004.
Check it out at
FreakingNews
Check out Ken Foree's official website
KenForee
Check out Tom Savini's official website
Savini
Which brings me to DAWN OF THE DEAD. The 2004 remake was directed by Zack Snyder and written by James Gunn (TERROR FIRMER, TROMEO AND JULIET, SCOOBY-DOO). The movie opens in suburban Wisconsin. Ana (Sarah Polley: eXistenZ) is a nurse, finishing a long shift at the hospital. There's just a tiny hint here and there that something is wrong, like the patient who came in with a bite from a bar fight and is now unconscious and what sounds like a news bulletin on the radio that Ana skims past, looking for music.
She gets home, says hello to the little neighbor girl and she and her husband jump in the shower together, thus missing a news bulletin on the TV. The next morning…
Okay, enough with the suspense. This is a damn good movie. What happens next is a roller coaster ride to hell. Ana wakes up to find the whole world coming apart. As you probably saw in the commercials the zombies here are not the slow, shambling monsters from the original. They have a horrible vitality and they move! Running and snarling, eager for your flesh.
Ana and a variety of survivors make it to the local mall (still locked up – it's barely 7 in the morning) and here they hide. The walking dead crowd around outside waiting for a chance to get in. The survivors wait for help, the government, somebody.
Each person handles the situation (or ignores it) in their own way.
Kenneth the cop (Ving Rhames: JACOB'S LADDER, BRINGING OUT THE DEAD, FINAL FANTASY),
Andre (Mekhi Phifer: IMPOSTOR) and his very pregnant girlfriend Luda (Inna Korobkina),
the always reasonable Michael (Jake Weber: THE CELL),
sarcastic asshole Steve (Ty Burrell: EVOLUTION)
and chief mall security guard CJ (Michael Kelly: UNBREAKABLE) all come across as very believable people desperately trying to find a way to deal with it all.
One other character worth mentioning is Frank. This cameo by Matt Frewer (TAKEN [TV], LAWNMOWER MAN 2, the one and only MAX HEADROOM himself) is sad and brief because Frank and his daughter Nicole (Lindy Booth: WRONG TURN) arrive just as the group has learned that being bitten by a zombie is quickly fatal. Frank was bitten.
Other cameos of note include three actors from the original. Scott H. Reiniger (DAWN OF THE DEAD) and Ken Foree (DAWN OF THE DEAD, FROM BEYOND), who were two of the central characters of the original movie, appear on TV as an Army General and a priest, respectively. It's fan favorite Ken Foree who gets to deliver the movie's tagline: "When there's no more room in hell, the dead will walk the Earth."
Also seen on TV (before all stations go off the air) is a local sheriff who tells everyone to, "Shoot them in the head." The sheriff is special effects expert Tom Savini (FRIDAY THE 13TH, CREEPSHOW 2, INNOCENT BLOOD, FROM DUSK TIL DAWN), who was also in the original film.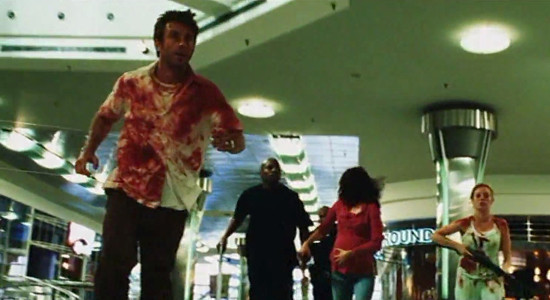 QUICK! We all need fresh shirts! And I saw a place in the mall...!
I've seen a few people on the Net make disparaging comparisons between this movie and 28 DAYS LATER, implying that DAWN OF THE DEAD - 2004 is somehow a rip-off of or was inspired by 28 DAYS LATER. Setting aside the fact that this is a remake of a movie from 1978 and that 28 DAYS LATER was a plague movie, not a zombie movie (the creatures in 28 DAYS LATER were infected but alive – not the walking dead), I will concede that there were a few shaky, handheld camera type moments that did remind me of 28 DAYS LATER. A minor point.
I've also seen complaints that this film didn't do the same "send up" of consumerism as the original. This refers to the most famous scene from the 1978 version, where a group of zombies manage to get inside the mall and they're shown wandering around while that ridiculous, light-hearted mall muzak plays in the background. Most everyone who ever reviewed the original points to this scene as Romero's commentary on "mindless consumers."
Very insightful but very wrong. The fact is when Romero was filming that scene the mall's recorded muzak came on automatically and no one knew how to turn it off. It wasn't planned at all.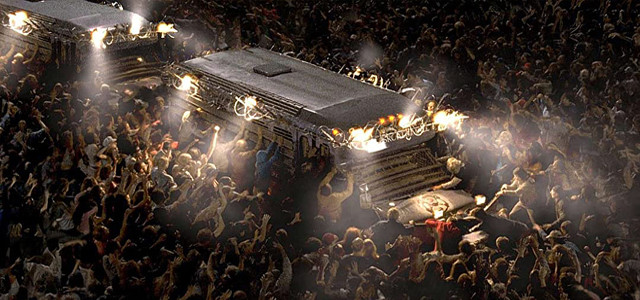 When public transportation becomes trendy, it will become exclusive.
The walking dead: Sounds like fantasy but I believe I can work in a
!!!SCIENCE MOMENT!!!:
One of the very cool things about the original three movies is that, in spite of a lot of scientific hand waving, they never figure out exactly why this is happening. A virus? A vengeful God? Alien Space Bats? It just happens and people have to deal with it.
Continued at SCIENCE MOMENT/DawnoftheDead - 2004.
That's my only quibble. This is a well-done horror flick with a talented cast and never a dull moment. It feels almost too real, in a way. It feels like you're really watching the end of the world. I give DAWN OF THE DEAD - 2004 four shriek girls.





This review copyright 2004 E.C.McMullen Jr.