Review by
E.C. McMullen Jr.

JOHN CARTER

- 2012
USA Release: March 9, 2012
Pixar, Walt Disney Pictures
Rated: USA: PG-13

CarterMovie

Official Website
Is there such a thing as slingshot storytelling? Well I can't find such a phrase in a cursory Internet search but I say there is and this is how it works.
You start a story in the past. In 1881 New York City, a man is being shadowed through the streets by another. He gives his stalker the slip and sends a telegram.
The person who receives the telegram is a young man by the name of Edgar Rice Burroughs (Daryl Sabara: SPY KIDS [all], Rob Zombie's HALLOWEEN). The Express telegram tells him to come to England as his Uncle John Carter has died. What the young Edgar doesn't know, is that his Uncle John (Taylor Kitsch: SNAKES ON A PLANE, X-MEN ORIGINS: WOLVERINE) sent the telegram.
In England, young Edgar discovers that he is the inheritor of his uncle's great fortune and estate. His uncle not only died in a mysterious manner, but insisted on being buried in a mysterious manner. Edgar can only keep his inheritance so long as he stays in England and guards his uncle's crypt.
Edgar had very little contact with his uncle, as John Carter was a famous adventurer from the state of Virginia.
Now pull it back to 1865.
John Carter fought for the South during the Civil War, only to return defeated and discover that his beloved wife and baby child had burned to death in a fire that consumed his house. Turning his back on war, government, and civilization, he headed west to start a new life, seeking gold and ancient treasures. But the Union Army has other plans for a military officer who was renowned for his fighting prowess: They want him fighting Indians in the new territory. John wants none of it and we see just what kind of fighter the man really is. Even the might and weapons of the Union Army cannot hold against John's combination of daring fury and cunning intellect. Even among his fellow soldiers, John is an exceptional fighter.
Chased and shot at, Carter stumbles into an old cave. A cave which contains the symbols that John has long sought: Those he believes will lead him to buried treasure lost for centuries by an old and forgotten civilization. In a fight with another man who mysteriously appeared before him in the cave, John wins, clutches his enemy's medallion in his hand, and apparently falls dead.
...and Fire!
Only to wake up in another place!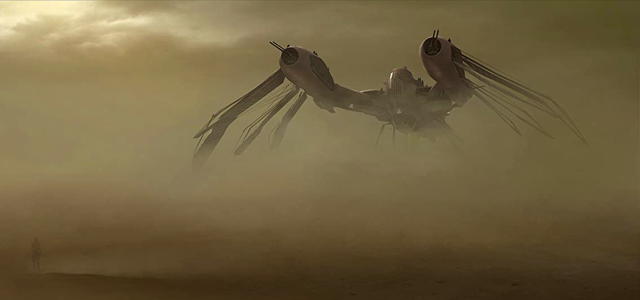 A place where the gravity is so weak that John must struggle to keep from flying into the air in great leaps with every step.
Eventually John stumbles across six limbed aliens: primitives at a technological point not unlike the Native Americans he refused to fight. Eventually he learns to speak their language while he is being held prisoner as some cross between a newborn and a slave.
There are also other people on this planet. Beings that are too human in appearance to be from Mars.
Yes Mars.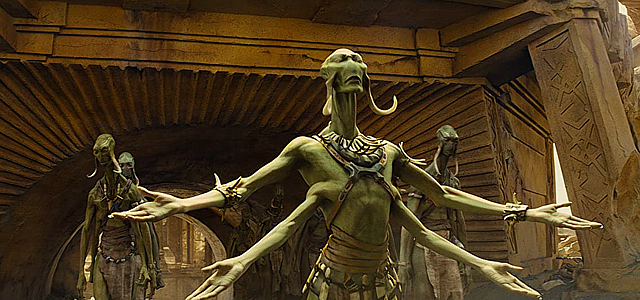 Somehow the medallion John held transported him from earth to Mars. Only the natives of Mars call their planet Barsoom. Carter grows to understand that the six limbed natives, known as Jeddaks of the Thark tribe, see the human-like citizens of their planet as "other", in the sense that, some time a long time ago, they came from a place that was not Barsoom. The Human Barsoomians are fighting a war. One side, led by General Sab Than (Dominic West: THE FORGOTTEN, 300, CENTURION), is able to crush all before him thanks to a powerfully advanced technology given to him by bald creatures who assume human form (they can assume the form of any living creature). These highly advanced spoilers - most often represented by Martai Shang (Mark Strong: BABYLON A.D., SHERLOCK HOLMES [2009], KICK-ASS) are willing to aid General Sab in his quest to rule all of Barsoom, so long as he does it their way. Sab, being both violent and stupid, but impressed by the awesome, powerful technology they control, agrees.
Beware of strangers aiding your cause.
The last city state to stand against Sab is Helium. Sab would happily raze it to the ground like he has conquered and consumed the rest of Barsoom, but his benefactors have other plans: The motivations of which they have no desire to share with Sab. And if Sab doesn't like it - and he clearly doesn't - they'll find someone else to give their power to: Someone more agreeable to their control. Perhaps the rulers of Helium would like to take back all that Sab has fought to possess?
Princess Dejah Thoris (Lynn Collins: BUG, THE NUMBER 23, X-MEN ORIGINS: WOLVERINE) of Helium has discovered the technology behind the power that Sab wields. The machine she invented to harness such power is primitive and inelegant next to the compact, highly advanced machinery that Sab uses. Never the less, it is close enough to give the advanced Beings concern, and a spy they have in the court of Helium surreptitiously destroys the thing as Dejah tries to demonstrate it.
Without a weapon to fight Sab, Dejah's father, King Tardos Mor (Ciarán Hinds: HARRY POTTER AND THE DEATHLY HALLOWS PART 2, GHOST RIDER: SPIRIT OF VENGEANCE), is forced to accept the demands of General Sab, who already approaches the city. His daughter Dejah must marry Sab, uniting the two kingdoms and ending the planetary war. It's the only choice left to save the people of Helium and Barsoom.
The tribe of Tharks that John is with, know nothing of the political war intricacies of the "White Apes", as they call the human appearing four limbed creatures (a derogatory slur because the humans resemble much smaller versions of the massive six limbed white apes indigenous to Barsoom - at least to Jeddak eyes). The Chief of the Tharks, Tars Tarkas (voiced by Willem Dafoe: eXistenZ, SPIDER-MAN [all], AMERICAN PSYCHO, INSIDE MAN, DAYBREAKERS) has problems of his own. And the White Ape slave "Virginia" that he captured in the outlands, is not impressing his people as expected. While John has amazing strength and can leap incredibly high and far, he has learned to speak the language and makes it plain he will not fight their battles for them.
Meanwhile, aided by her loyal officer, Kantos Kan (James Purefoy: LIGHTHOUSE, RESIDENT EVIL) Dejah has escaped from Helium and her arranged marriage. She knows she is too close to discovering a weapon that can defeat Sab, to give in to him now and worse: be the wife of a witless genocidal maniac.
The marriage makes no difference to Sab, who is concerned with only with power, not weddings. But Dejah's escape makes a world of difference to the Beings, who know only too well the danger of a Dejah uncontrolled. She is a Princess of Helium, possessing not only great intellect, but the training of a highly skilled warrior: a lethal combination to the mysterious plans of the Beings.
As the two Light Flyers engage in battle in the sky, they do so overhead of the Thark tribe of Jeddaks. John Carter has barely figured out what the hell is going on in this alien tribe he is chained to, and already there is another battle going on right over his head.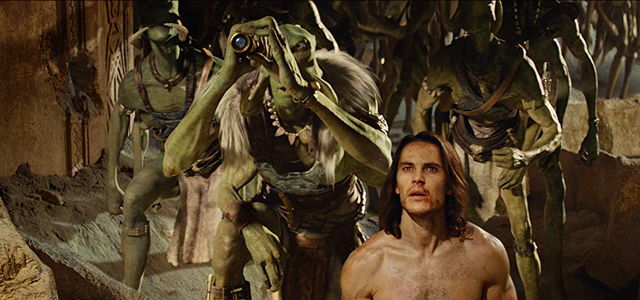 Hoping that "Virginia", as Tars mistakenly calls him, will fight to protect those who adopted him as slave (clearly an alien concept of society), Tarkas unchains John. John does nothing to fight until he sees a beautiful woman, the Princess, fall from one of the craft. He makes the most powerful leap any of the Jeddak have seen so far, and none of the humans have ever seen this man. The Princess is impressed, Sab is confused, and the Beings are afraid.
Sab only knows one thing: when in doubt, use his weapon glove to obliterate the enemy before you. But Sab is accustomed to approaching armies where he needs to do nothing more than sweep his arm back and forth, destroying all before him. John Carter, leaping from place to place with a power and agility unknown on Barsoom, is too fast and unpredictable for the dim Sab. The Beings, stunned by this wild card, insist upon retreat.
And so the story is told.
And what a great damn story!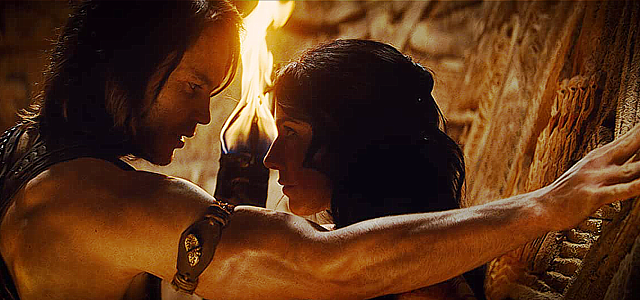 Old Spice deoderant lets you get... This Close!
I haven't read the John Carter books in years, but I remember that author Edgar Rice Burroughs kept bringing new things to the series - things that should have had some mention in the first book, but only grew as Burroughs explored this world of his imagination. The dull-witted, cruel and brutal Jeddaks grew into a multi-dimensional society of their own where bonds, truce, and friendships could be made. The Princess... well, I don't want to ruin either the books or the movie for you.
Suffice to say that writers Mark Andrews and Michael Chabon (SPIDER-MAN 2), along with co-writer and Director Andrew Stanton (MONSTERS, INC.), updated the characters, technology and the science where needed, without ruining the spirit of Burrough's novels. some of this updating appears to be within the context of the complete series. There are hints now of the people these characters will later become.
Andrew Stanton amazingly stepped away from a career reliance on computer animated SFX to tell the story through his characters, having his actors actually act to carry through the tale (something I've never seen an SFX artist turned director ever do).
There is also an interesting cast hidden behind the cgi Jeddaks including Thomas Hayden Church (TALES FROM THE CRYPT: DEMON KNIGHT, SPIDER-MAN 3), Samantha Morton (MINORITY REPORT), David Schwimmer (APT PUPIL), and Jon Favreau (IRON MAN [all]).
Because of the unbelievably bad advertising and marketing of JOHN CARTER in the U.S., I went into this movie expecting to dislike it, possibly hate it.
Instead, I came out of the theater with the kind of thrill I've not experienced since the original Star Wars or THE MATRIX. There are very few movies I've enjoyed enough to return to the theatrical run, paying full ticket price. I've seen JOHN CARTER in theaters three times now.
With enough money in the budget, anyone can create awesome special effects. JOHN CARTER achieves something far better: An awesome story! Combine the two and you get what JOHN CARTER is: An awesome cinematic experience!
All Five Shriek Girls!






This review copyright 2012 E.C.McMullen Jr.